Accidental amateur sleuth + streetwise security expert = Investigation Domination
Follow the (mis)adventures of Belinda Kittridge as she leads Bennett Tate and their friends to crime-solving glory – and cupcakes.
Coming Soon…
An "accidental" death throws Belinda and Bennett into the thick of an investigation – and foils Bennett's plans to pop the question. See how it all works out in book seven!
Sign up to learn about new and upcoming releases!


Truth or Die (Book Six)
Spring is in the air, and Kyle has come home. With a surprise.
Belinda never thought she'd see the day that a murder investigation would be a welcome distraction. But when Kyle's return from Australia isn't the reunion she expected, trying to figure out why a young woman wound up dead in her family's pool turns out to be a way to escape her woes.
Especially when the victim's murder seems to be entwined with a secret from her past, and those who know it are keeping it close. As Belinda and Bennett aid Jonas in finding a murderer, Belinda's issues with her brother escalate.
While they rely on evidence and good old-fashioned snooping to expose the killer, Belinda's situation with her brother ends up revealing how she and Bennett truly feel about each other–and what the future may hold for them.
Available now on Amazon, iBookstore, B&N, Kobo, and Smashwords

Misfortune (Book Five)
What do an old recluse, a new heiress, and an obsession with Egypt have in common? Portside, of course. And Belinda Kittridge.
In an attempt to help a woman who inherited a fortune from a total stranger, Belinda and Bennett get caught in the middle of a deadly struggle. The matter is complicated by a new detective who doesn't play well with amateur sleuths. And Belinda's visiting cousin wants in on the action–and danger.
Battling self-doubt, and fear that death threats will become realities, Belinda looks to her friends, and a couple frenemies, to dig to the bottom of a family full of secrets. It will take their combined efforts to unmask a killer–and a decades-old mystery.
Available now on Amazon, iBookstore, B&N, Kobo, and Smashwords
Two to Tango (A Mini Mystery)

There's nothing like losing valuable beach time to investigate an alleged theft. Especially when the client is Madame Russo–Belinda's grandmother–and Belinda's unsure the theft actually happened. But she and Bennett persist until they get to the bottom of her grandmother's suspicions, even if that means a few misadventures along the way…
Available now on Amazon, B&N, iBookstore, Kobo, and Smashwords
Overkill (Book Four)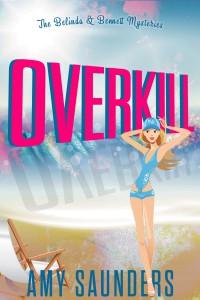 Summer in Portside: The beach! The gelato! The murder…
Belinda's peace from scandal and her grandmother is short-lived when a painting – and then a body – wash up on her favorite beach. As she and Bennett team with Det. Jonas Parker to figure out how the two connect, a possible art forgery comes to light – and another victim.
Belinda continues to grow into her new role as a part-time amateur detective, swimming through suspects and broken connections, while Bennett starts to rebuild his life, and Jonas breaks free from work to pursue a potential new romance.
With the heat of summer upon them, the future is more unpredictable than ever.
Buy now at Amazon, Amazon CA, Amazon AU, iBooks, B&N, & Kobo
Also available at Scribd
Click here to read the first two chapters.
Drive-Bye (Book Three)
Belinda's recent blunders have come back to bite her – and Bennett – in the monster cupcake. But they're not the only ones with problems.
A car crash uncovers the body of an unlikely murder victim. But the more they learn about her, the more the answer to her death seems to lie in issues that reach far beyond Portside.
As the truth comes out, and Belinda's personal life teeters on the breaking point, she takes life by the maraschino cherries, and finds help in unexpected places.
Buy now at Amazon, Amazon CA, Amazon AU, iBooks, Barnes and Noble, Kobo, & Smashwords
Also available at Scribd
Auf'd (Book Two)
Lending a hand to a charity fashion show sounded like such fun. Now if only Belinda's idea of a good time included a smothered designer and trouble with Bennett.
While Belinda balances opening a business and a house reno, haute couture Portside-style lands her in one hot mess of runway intrigue and man drama.
It seems not everyone at this show is what they claim to be – or even who.
Buy Auf'd at Amazon, Amazon UK, B&N, iBooks, Kobo, & Smashwords
Also available at Scribd
Making her grand re-entry into Portside, Rhode Island, Belinda Kittridge expected fun, sun, and sugar cookies.
Instead, she gets one jilted lover braced for round two, an old rival on the hunt, and the murder of a former classmate and friend. Even worse, Belinda must return to the events surrounding a tragic sailing accident to set things right.
But new possibilities emerge in the form of security expert Bennett Tate. Between her connections and his know-how, they're bound to catch the killer – and kick the skeletons out of the closet for good.
FREE at Amazon, B&N, iBooks, Kobo, & Smashwords
Also available at Scribd
Add Cliffhanger to Goodreads